To enter, you must be of legal drinking age!
Limited Editions
Bottled in Bond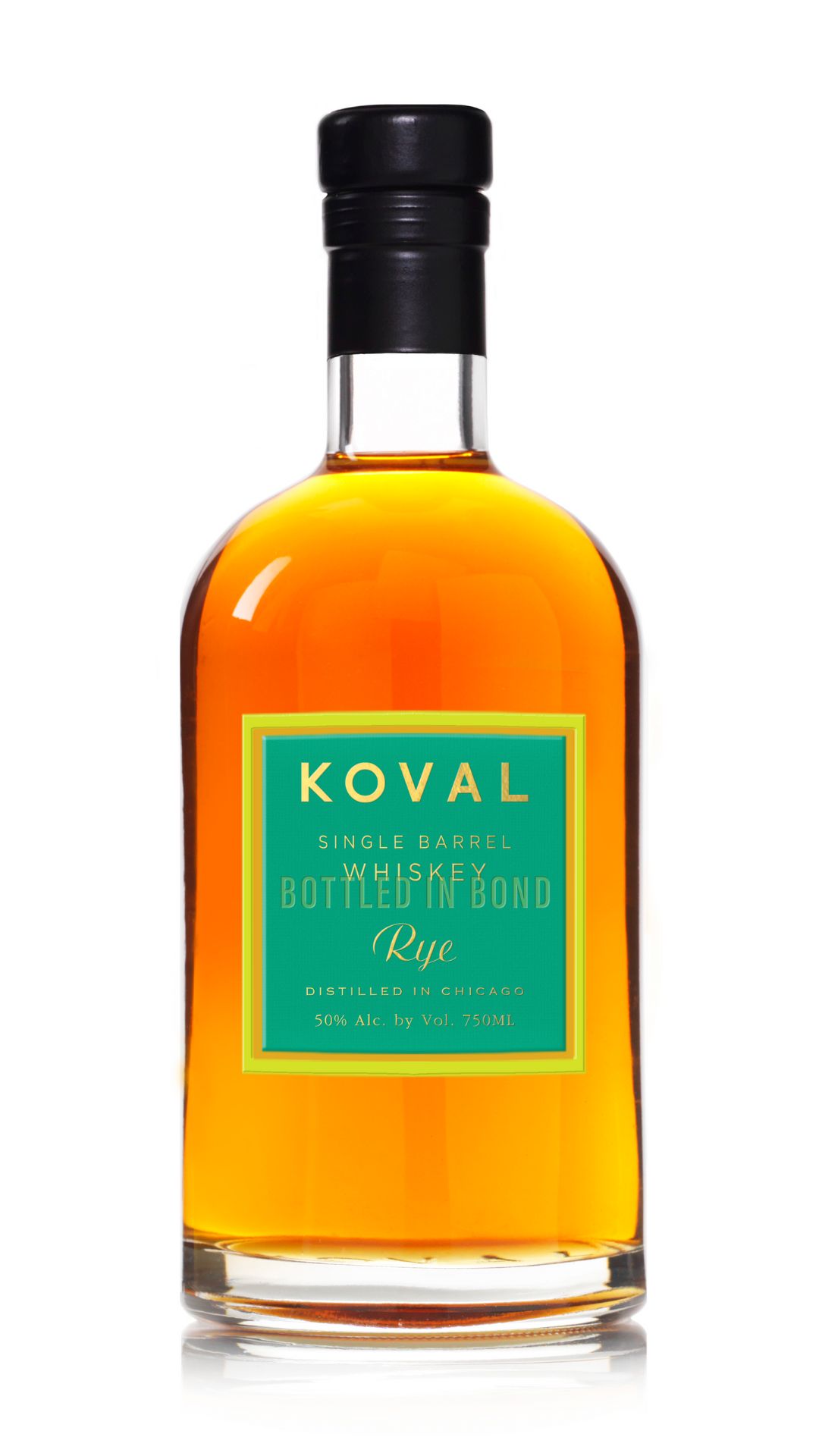 100% Rye - 100 proof
Aged for a minimum of four years in our federally bonded warehouse, bottled at precisely 100 proof. Ideal for those who like plenty of spice, and a single, unmalted grain expression. Not shying away from a complex flavor profile, grain-forward spiciness nuanced by cinnamon and ginger give a nice kick to the entire drinking experience.
Pink Bourbon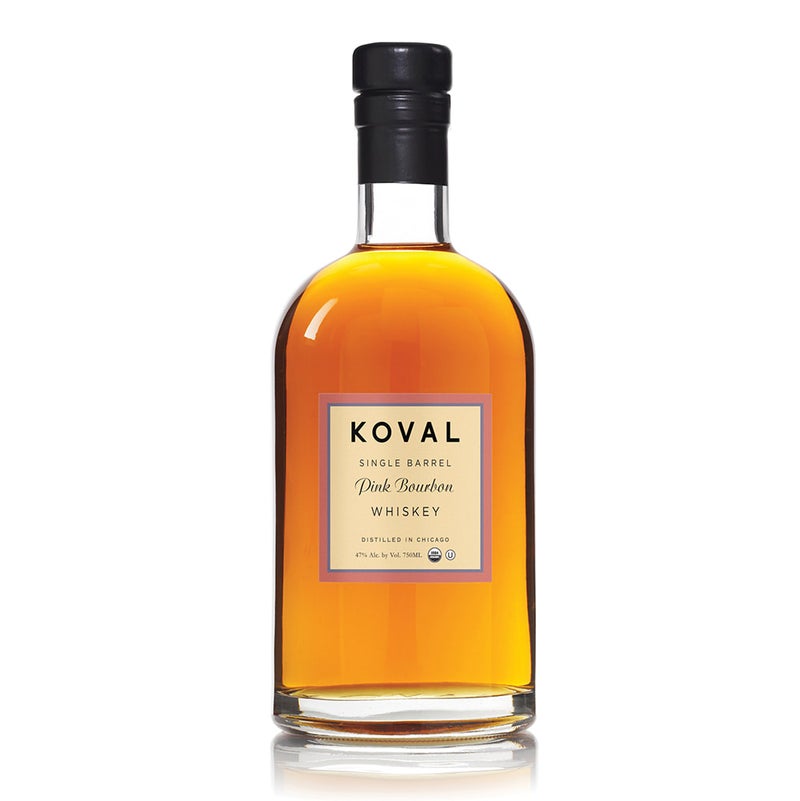 51% pink corn, 49% millet - 94 proof
A friend to all, and perhaps even a bit of a flirt, KOVAL Bourbon brings new levels of approachability and intrigue to its classic category. This unquestionably unique mash bill of corn and millet is given even more charm by the introduction of pink corn. Parse out the subtleties of its pleasant flavor, with ample sweetness and smooth notes of apricot, leather, and vanilla.
Rye - Finished in Peach Brandy Barrels
100% rye aged in former Peach Brandy barrels
Rye whiskey brimming with spice and earth, finished in peach brandy barrels for an alluring hint of the ripe, floral essence from the fermented fruit. As if the elegance of the flavors were not enough, this offering is made even more enticing by the process - it is one of KOVAL's only forays into unique barrel finishing, bringing an element of exclusivity to each bottle.
Rye - Finished in Maple Syrup Barrels

100% rye aged in former maple syrup barrels
Crafted with the same unique mash bill of 100% organic rye grain as the classic KOVAL Rye, this limited-edition expression spent time aging in maple syrup casks for an extra touch of sweetness and appealing depth of flavor. Enticing notes of cinnamon spice, tart cherry, and molasses delight the senses, while a long creamy chai tea finish rounds out the drinking experience. A delicious base for Manhattans, and a delightful addition to the collections of craft whiskey enthusiasts and lovers of unique barrel aged spirits.
8 Year Rye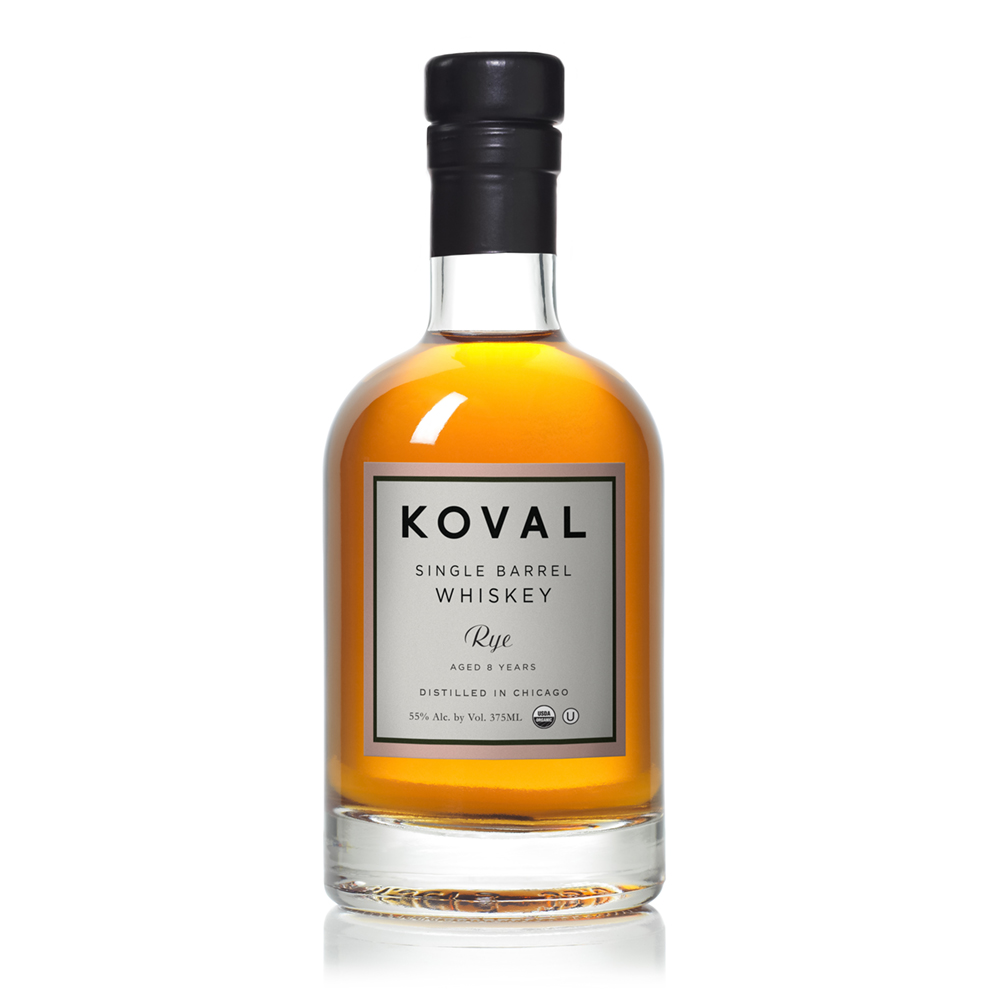 51% rye, 49% malted barley - 110 proof
Rich and roasted. Smooth and sumptuous. This full-flavored whiskey evokes a warming spirit of good cheer in all those who imbibe it. In comparison to the typical 2-4 year aging process of KOVAL's whiskeys, designed to keep things bright and crisp, this 8-year offering leaves the barrel exceptionally mellow and refined.
Rye with Wheat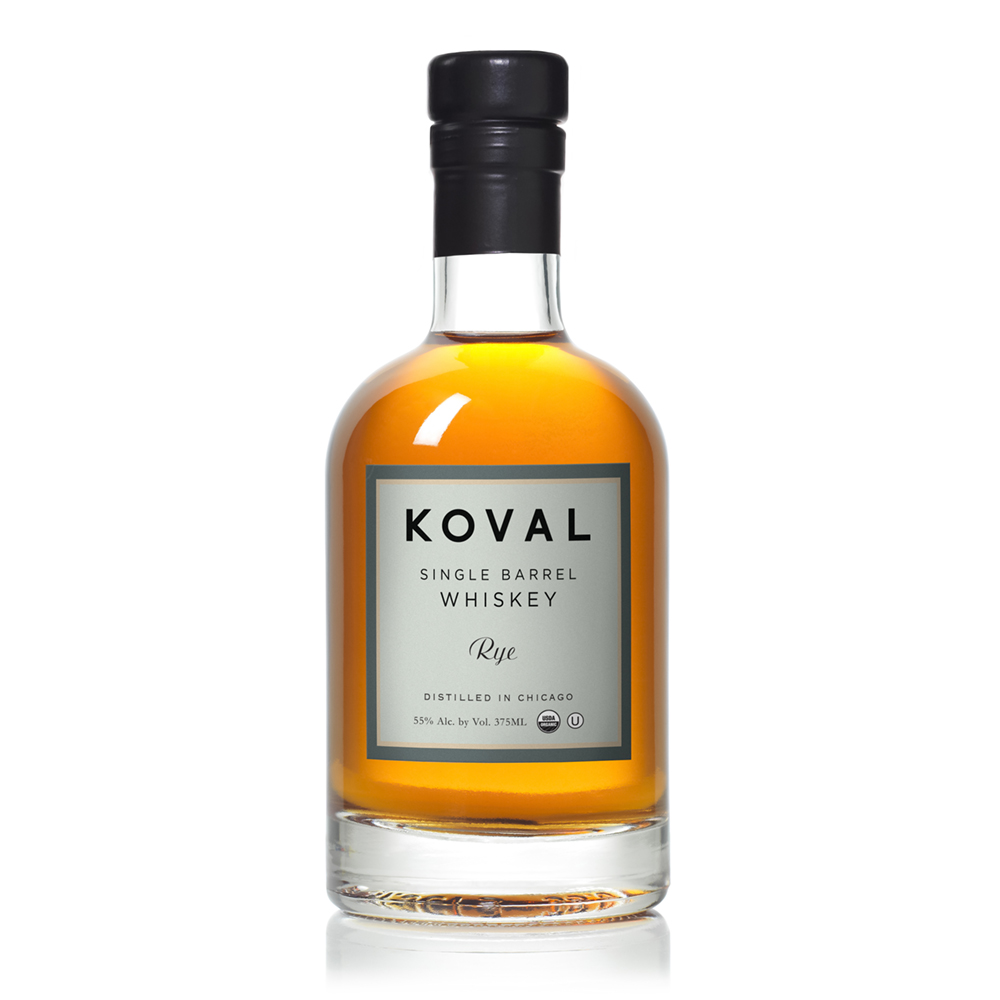 51% rye, 49% wheat - 110 proof
Warm, curried spices find themselves bringing the heat amongst sweeter notes of bananas foster and cinnamon cake in this well-balanced fusion of rye and wheat. Both grains lend a considerable kick to this whiskey, so prepare to be exhilarated by the entire experience from start-to-finish.
Five Grain - currently unavailable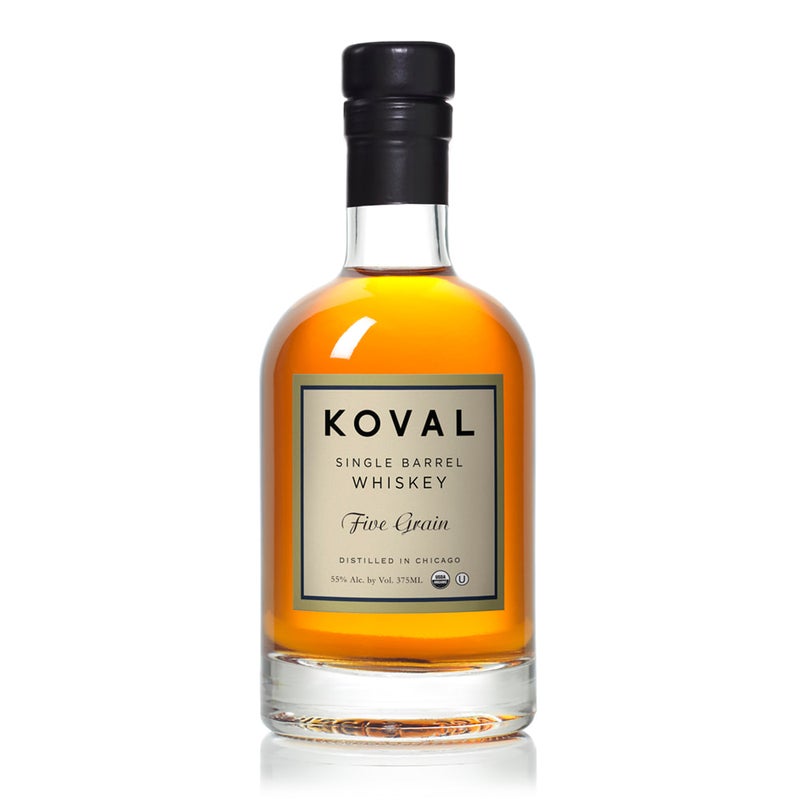 Millet, oat, malted barley, rye, wheat - 110 proof
For those in search of intricate flavors and a myriad of grain experiences. This five grain whiskey boasts the most complex mash bill to ever grace the KOVAL lineup - oat, rye, wheat, malted barley and a healthy dose of millet. Designed to be slowly savored while marveling at the possibility of five distinct grains, each with their own very singular essence, dancing in unison upon the palate with grace and finesse.
Mikkeller - currently unavailable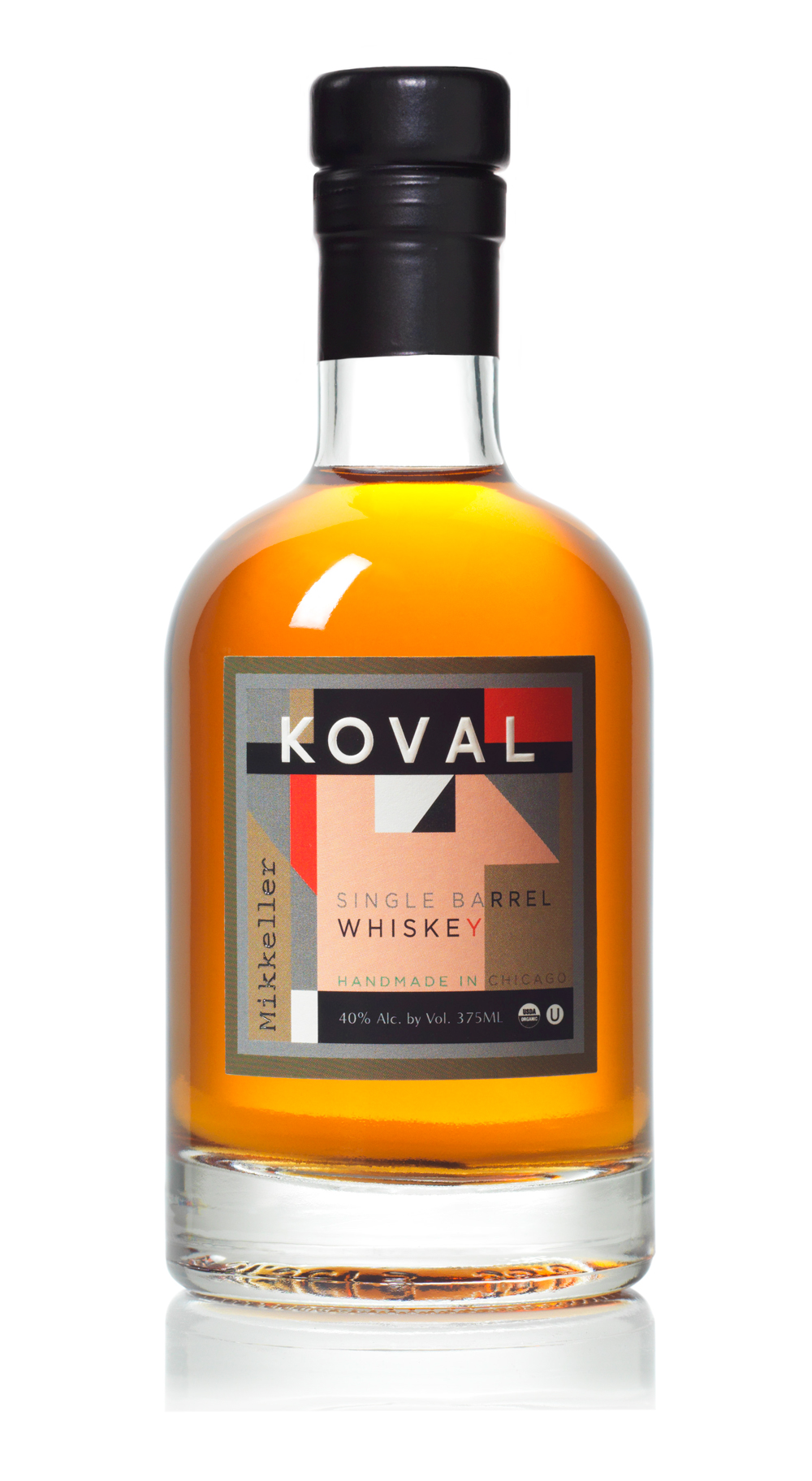 A collaborative whiskey with Mikkeller, the internationally acclaimed "nomad" micro-brewery founded in Copenhagen, Denmark known for producing cutting-edge brews around the world. This collaborative effort follows the same grain to bottle distillation and aging process as each KOVAL whiskey, but consists of a new mash bill and the use of chocolate malt. This whiskey is a rare expression with a nose of coffee, toasted walnuts, and caramel, followed by an initial taste of chocolate toffee and finishing with a wisp of orange peel.
---
Additional Limited-Edition Releases
Toasted Barrel Whiskeys

Single barrel, single grain organic whiskeys aged in a 30 gallon toasted barrel. This style of aging is more typical of Irish whiskey and is the signature style of aged whiskey produced by Robert's grandfather in Austria. All Limited Edition whiskeys are aged between 2-4 years, and the light color is indicative of aging in a toasted, as opposed to a charred, barrel. These whiskeys are all very bright and grain forward with luscious oak notes. Bottled at 80 proof.





- Toasted Rye

-
Notes of tangerine and coconut, with a clean and peppery finish.




- Toasted Millet

-
Tart mouthfeel with notes of dark fruits (cherry) on finish.




- Toasted Oat

-
Pineapple and banana with a soft, creamy finish.




- Toasted Wheat

-
Sweet delicate banana notes with a crisp finish.




- Toasted Spelt

-
Warm mouthfeel and notes of ripe apricot and peach with a smooth finish.




White Whiskeys
Our white whiskeys showcase the quality of the grain and the distillate; delicious as twists in cocktails or for whiskey enthusiasts to taste different grains without oak. Bottled at 80 proof.




- White Millet

-
A spicy opening with a hint of brown sugar and slight white chocolate. Candied nuts and fruit finish.




- White Oat

-
Red currant undertones and a hint of tapioca, with a creamy palate. Ripe pear and fig finish.




- White Wheat

-
Banana nose, with hints of dried fruits and a touch of cantaloupe.




- White Spelt

-
Delicate apricot blossom aroma turns creamy on the palate, followed by a butterscotch and almond finish.




- White Rye -


Peppery and very abundantly floral with notes of fresh cut grass and sweet chili pepper.






Charred Barrel Whiskeys


Single barrel, single grain organic whiskeys aged in a 30 gallon charred barrel. Bottled at 80 proof.




- Charred Spelt

-
Maple, brown sugar, and shortbread with a dry finish.




- Charred Wheat

-
Banana and caramel with a round, buttery finish.