KOVAL Distillery is proud to distribute our spirits in over 30 countries around the world, and now that the holiday season is upon us we want to examine how some of our international partners celebrate the holidays. We feel that learning about festivities from around the globe is a great reminder of how much this time of year means to many of us.

1) Germany's Pickle Ornament

On Christmas Eve, parents hide a pickle ornament in the tree and the first child to find it receives a small gift. The origin of the pickle hiding tradition isn't entirely clear, and there are many legends about where, why and how it started. One legend begins with a family story of a Bavarian-born, prisoner of war who was in poor health and starving. He begged a guard for one pickle before he died. The guard took pity on him and found a pickle for him. The pickle, by the grace of God, gave him the physical and mental strength to survive. Other believe that in the 1880s when Woolworth stores started selling glass ornaments shaped in various fruits and vegetables, it's likely that pickles must have been among the selection. Overall, it seems that the real essence of this tradition is to take the time to cherish the moment with family and friends. While the children search for the pickle hidden in the tree, parents hope they savor the beauty of the season and not focus only on the gifts under the tree.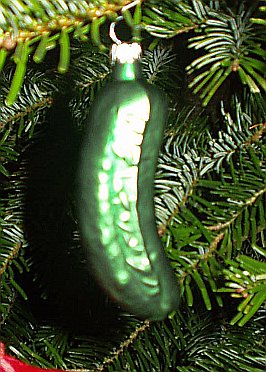 2) Slovakia's Loksa Pudding

Every Christmas the most senior man in each household takes a spoonful of the traditional loksa pudding and throws it at the ceiling. Supposedly the more that sticks, the luckier you will be!
...
Continue reading